Dear Spirit Creek Community:
It is with abundant excitement that I write this letter of introduction as the new principal of Spirit Creek Middle School. Entering the doors of Spirit Creek, I immediately felt at home. Having the honor of being named principal was a homecoming for me because I was privileged to be a 'Mighty Dolphin' during my middle school years.
I thank Dr. Shepard for all of her hard work over the years. Under her leadership, Spirit Creek has grown academically and I look forward to continuing her legacy and the school's history of academic excellence. I also thank the Spirit Creek faculty and staff for the warm reception I have received and I anticipate great achievements for the school in our future.
My vision for Spirit Creek is reflective of the Richmond County School System's mission, which strives to provide a world-class education for all students through the means of collaboration and innovation. In order for Spirit Creek to fulfill this calling, I recognize the need for collaboration with the greater South Augusta community. This includes our students' parents, families, places of worship, and community organizations. Within my first few days, I have had the pleasure of receiving congratulations, well wishes, and offers of assistance from many parents and community members. I understand how important the success of Spirit Creek is to the South Augusta area and intend to work diligently with the community to meet the needs of our students.
My vision for Spirit Creek also includes the growth of Spirit Creek's Science, Technology, Engineering, and Mathematics (STEM) Program. The STEM program and related initiatives will not only engage students in the classroom through real-world applications of traditional learning, but introduce students to the many well-paid career fields that await individuals with STEM-related knowledge, certifications, and degrees.
Again, I feel extremely blessed to be the principal and instructional leader of the school where my own sense of self, desire for learning, and love of community were developed.
I look forward to meeting and working with you.
Respectfully,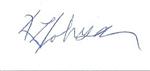 Kierstin L. Johnson, Principal
Spirit Creek Middle School
www.rcboe.org/spiritcreek