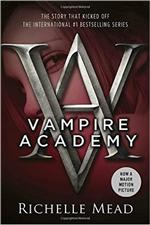 Hello I'm Kennedy Badger, I'm in eleventh grade, and my current literature teacher is Mr. Jackson. The book I am reviewing is Vampire Academy, it was written by Richelle Mead, it is a fantasy fiction book, and it was published august 16, 2007. The setting of this book is modern day 2007 in Montana, United States. The book follows the point of view of a teen girl named Rose, and her friend Lissa. The plot is about how Rose is a dhampir, a half human half vampire, and Lisa is a moroi, a full blood vampire, and how they are forced to go back to the academy where they were being hunted unknowingly and the challenges they face trying to figure out who's hunting them. Vampire academy, a fantasy boon written by Richelle Mead, is a very interesting book in my opinion through the fact that the main element and theme aren't like normal stories surronded vampires.
Firstly I would like to discuss the main element. Why I like the book and have a strong opinion of it is because of the way it's written, it is written like a teen's diary would be written. For example it says "novice gaurdians- dhampira like me- and moroi sat together, eating and socializing, faces alight with whatever current gossip held the academys attention." This shows how the author wrote the book to attract a teen's attention. It is written like a teen would write a paper on something they don't really care about.
In conclusion the Vampire Academy, a fantasy book written by Richelle Mead published in 2007, is a very good book. This book is written in the P.o.v. of a teen girl who has many challenges ahead of her. The book shows many promising and funny points along the way. Finally the book will be a greatway to escape if you are bored and just want to relax and have a laugh.