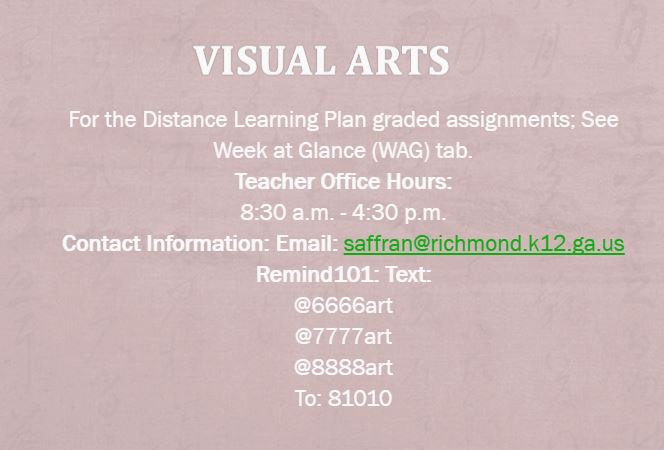 UPDATE: 04/16/2020

Good Afternoon,

As many of you may be aware the district has decided that the last day of distance learning will be May 8, 2020. No new work will be assigned after April 15, 2020 and everything from this point out is now grade recovery work. I will continue to accept all distant learning work up until May 22, 2020.

Art has now become a pass or fail course. A passing grade is a 70 or above. Your child's grade will be based on their Quarter 3 grade and everything completed during distant learning can only add to their grade. With that being said, if your child did not have a passing grade during Quarter 3 they can continue to submit distant learning work or recovery work to bump their grade up to passing.

To keep grade recovery as simple as possible students that need to recover are expected to complete any missing assignment from Quarter 3 and submit it to me through email or remind. If your child received a low grade on a Quarter 3 assignment and wishes to redo the project to improve their overall grade that is also an option.

If your child is at risk of failure you will receive a call from me and we can discuss what your child needs to do to raise their grade to passing.

Thank you for all you do for your child.

Email: saffran@richmond.k12.ga.us

Hello Parents, Guardians, and Students,

If you're child (or you) hasn't turned in an assignment yet do not fret. There will always be extended work time during this crazy time. I will be putting in a missing in the grade book just for the sake of keeping track of what I've received and what I've graded. Grades will be updates as work arrives with no penalties. Remember you can send in work through email or on remind.

Please stay healthy and safe. Hopefully we are able to go back to school in the near future.