Welcome to 7th Grade Life Science.

Your 7th grade curriculum consists of 3 Units:
Stability and Change in Living Systems Which Food Would Come.
Structure and Function in Living Systems
Patterns
You will be required to have a NOTEBOOK. It will be your lifeline. We only have a limited amount of textbooks, therefore I will give you the information to put in your notebook for Data purposes.
8th Grade

Hello and Welcome to your 8th Grade Physical Science Class. I am Mr. Taylor, and I have the honor of leading you out of Middle School Science by preparing you for the 9th Grade. Physical Science is one of my favorite subjects. In this class, we will discuss the Creation of the Universe, the Forces that make the Universe work, the Electromagnetic Spectrum and Waves, Motion and Levers. Putting it all together, from the 6th Grade- Earth Science; 7th Grade- Life Science and 8th Grade- Physical Science. It is my plan to give you a universal understanding of the Human experience that we share and how to use it for healthy living.

In this class,you will be required to have a notebook. I give open notebook tests. When we are taking tests, you will be required to show your face on the computer.

As we are learning in this virtual platform, please be patient. I have a lot to learn and to share with you. I will be patient with you but I will need communications from you when or before you get in a bind. My email adddress: TayloEr@boe.richmond.k12.ga.us. Please use it if you need too!

I'm looking forward to a great year with you. Let's get the highest score in Science in the State of Georgia on the GA Milestones. Can we do it? Yes we can!

Mr. Eric L. Taylor, Sr.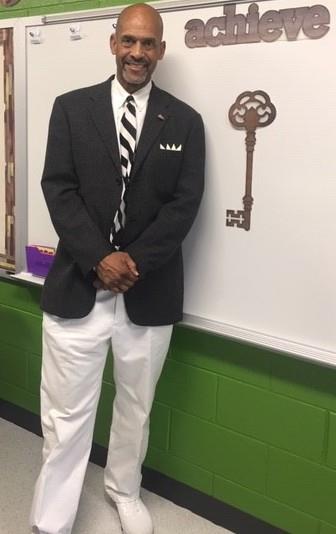 Phone:
Email:
Degrees and Certifications:
Mr.

Eric L. Taylor

Hello. My name is Mr. Eric L. Taylor, Sr. I will be your Science Teacher for the 2020-2021 School year. Let me tell you a little about me.

This is my 29th year in Education. I started as a Teacher's Aide, became a Teacher, and an Assistant Principal. I have worked in the following counties: Greene, Richmond, Newton, Bibb and Dekalb. I have taught at C.T.Walker Traditional Magnet School and served as the Assistant Principal of Westside High School. My family and I moved to Atlanta, helped our sons get degrees in education, and moved back to Augusta in 2019.

I am certified in three subjects: Science, Math and Social Science. I love all 3 subjects. You can call me a life-long learner. I enjoy teaching and learning from others.

I am a graduate of Morehouse College with a BA in Psychology/Pre-Med. I have a Masters of Education in Middle Grades Multimedia Education. I also have an Educational Specialist Degree in Supervision and Administration. I am also an Ordained Minister and Pastor of Emmanuel Faith Tabernacle Christian Center, Grovetown, GA.

I am married and we have 3 adult children.
All Categories
Unassigned
Select Month
January
February
March
April
May
June
July
August
September
October
November
December
Select Year
2020
2021
2022
2023
Filter