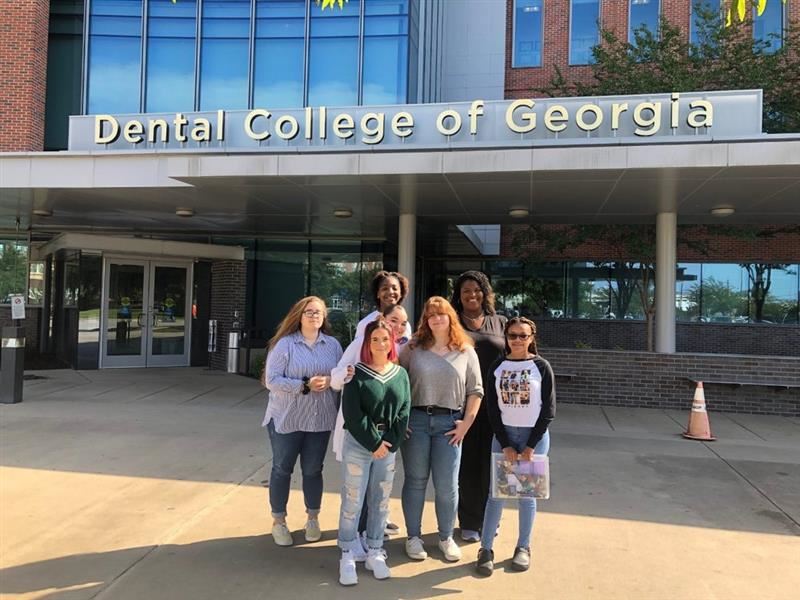 Students will complete summaries of blue boxes located in their dental book as well as complete check-offs for putting on and taking off PPE in preparation for dental procedure.

Test on Chapter 11 will be annouced

HS-EDS-5 Adhere to appropriate infection control guidelines and regulations and demonstrate infection control procedures including the use of PPE (Personal Protective Equipment).

5.1 Differentiate between antiseptics, disinfectants, and sterilization.

5.2 Apply methods of sanitizing, disinfecting, and sterilization.

5.3 Review safety data sheets prior to preparing antiseptic, disinfectant, and germicidal agents.

5.4 Clean, disinfect, and sterilize in accordance with standard precautions.

5.5 Research the CDC (Communicable Disease Center), NADL (National Association of Dental Laboratories), USPH (United States Public Health), and OSHA guidelines for infection control in the dental setting.

5.6 Investigate the role of OSHA in enforcing the infection control guidelines.

5.7 Demonstrate infection control procedures established by OSHA and the CDC for patient management:  universal and standard precautions  hand washing  proper use of PPE  proper disposal using a sharps container

5.8 Describe employee training required to meet the OSHA standard for hazardous chemicals.

5.9 Identify bio-hazardous waste, how to dispose of such waste, and OSHA guidelines for labeling and disposing bio-hazardous wastes.

5.10 Utilize the HMIS (Hazardous Materials Identification System) and safety data sheets.

5.11 Adhere to procedures utilized in the management of bio-hazardous materials,

5.12 Process and sterilize instruments to specifications of the dental setting and in accordance to OSHA and ADA regulations.

5.13 Demonstrate utilization of the ultrasonic cleaner and identify those items that may be processed in the ultrasonic cleaner.

5.14 Label and package instruments for sterilization using paper, cloth, plastic, and nylon tubing and maintain equipment asepsis.

5.15 Prepare barriers in treatment room to maintain aseptic technique.

5.16 Identify physical equipment and mechanical devices provided to safeguard employees.

Join HOSA today-- $35 and it includes a shirt with membership

www.georgiahosa.org for more info about HOSA. If writing a check make it payable to ARJ HOSA

Class Supply List

* 3 ring binder

* colored pencils

* styrofoam wig head (2nd semester)

* USB flash drive (or another means to save work like dropbox or google drive)

* Clinical Attire (which is purhcased through the school in September; approx. $90.00)

*Clinical Shoes

*Safety glasses (dollar store kind are fine)
Please read in it's entirety and return the SIGNATURE page with yours and your parent signature.

Task aligns with Chapter 18 in the Dental Assisting Book. Students will compile information and put together a presentation that will be presented to the class.

You must print and bring your rubric to class the day of presentations.
All Categories
Unassigned
Select Month
January
February
March
April
May
June
July
August
September
October
November
December
Select Year
2018
2019
2020
2021
Filter