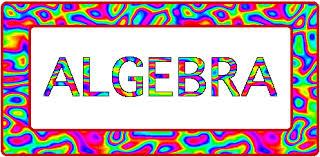 Announcements
Distance Learning Algebra I-B

Due to the closing of school to promote social distancing in percaution of the Covid-19 pandemic, all learning will now be done online. The learning assignments/expectations are on the home page this webpage. Thank you, and be safe!
Assignment List
All Categories
Unassigned
Assigned
Completed
In Progress
Past Due
Select Month
January
February
March
April
May
June
July
August
September
October
November
December
Select Year
2019
2020
2021
2022
Filter
Helpful Links
Khan Academy

Helpful site for review or for further instruction.

Math is Fun!
Textbook Files
Unit 4: Modeling and Analyzing Quadratic Functions

Using Square Roots to Solve Quadratic Equations

Using Factors to Solve Quadratic Equations

Connecting Intercepts, Zeros, and Factors

Graphing Quadratic Functions

3: Modeling & Analyzing Exponential Functions

Geometric Sequences and Exponential Functions

Unit 2: Reasoning with Linear Equations and Inequalities

Arithmetic Sequences

Function Notation and Rate of Change

Linear Systems of Equations

Linear Inequalities

Graphing Linear Equations

Linear Equations & Formulas

Unit 1: Relationships of Expressions

Polynomial Operations

Quantaties and Expressions