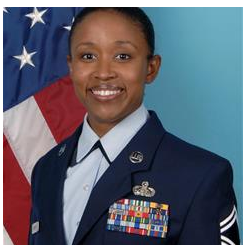 Phone: 706-737-7360 ext 1687
Email:
Degrees and Certifications:
Bachelor's of Science in Networking and Telecommunications
SMSgt Ebonni Beharry

Senior Master Sergeant Ebonni Beharry is the Aerospace Science Instructor (ASI) at T.W. Josey High School. She currently teaches Aviation History, Life Skills, Career Opportunities, Aerospace Science and Leadership Education for all first and third year cadets in the program. She has been at T.W. Josey High School since August of 2016 where she is passionate about developing her students into citizens of character who are dedicated to serving their nation and community.

Sergeant Beharry enlisted in the Air Force in October 1995. She attended technical training courses in electronic principles, avionics communication, navigation, cryptographic, computer and ancillary systems, graduating training in August 1996. During her career, she served in a variety of specialties and roles and has been stationed across the United States, Europe and the Pacific. She also deployed to the 386 Expeditionary Communications Squadron in support of Operation New Dawn.

In her last position within the Air Force, Senior Master Sergeant Beharry served as the Superintendent for Detachment 1, 318 Cyberspace Operations Group, Fort Meade, MD. As Superintendent, she provided senior enlisted leadership and administrative support for 18 personnel embedded in work centers across the National Security Agency and United States Cyber Command. She also advised the Detachment Commander on morale, health and welfare issues.