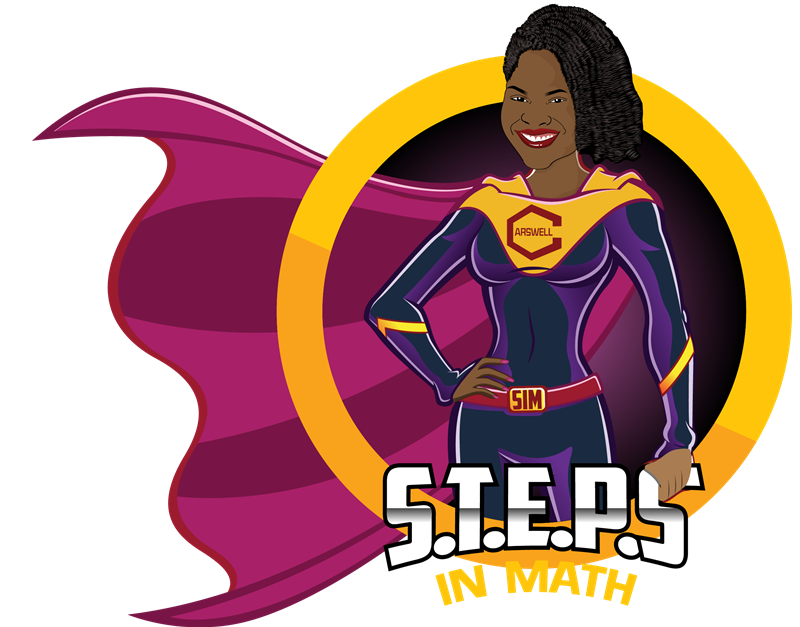 "Helping students conquer their fear of Math, one problem at a time"

Seeking To Educate & Promote Students'-Success in Math

"A good teacher can inspire hope, ignite the imagination, and instill a love of learning."
Algebra 1A
All Categories
Unassigned
Select Month
January
February
March
April
May
June
July
August
September
October
November
December
Select Year
2019
2020
2021
2022
Filter
Margie L. Carswell

---

Email Address:

stepsinmathclass@gmail.com

carswma@boe.richmond.k12.ga.us

Phone Number:

828.668.2467 (text message; preferred method)

---

Need Assistance

Tutoring will be offer Monday and Tuesday from 4:00pm-5:50pm. Tuesday, Wednesday & Thursday from 7:30am-8:30am, are available upon request. PLEASE BE ADVISED , DUE TO THE CORONAVIRUS PANDEMIC, TUTORING IS CANCELLED UNTIL FURTHER NOTICE. I am avaliable via phone, text message preferred and email, from 9-4pm.

REP Students who is requesting additional assistance please contact Katrina Moore via email mooreka@boe.richmond.k12.ga.us or clicking this link to access her webpage.

---

Detention

When assigned, Students will serve detention either on Monday through Friday from 7:30-8:30am or 4:30-5:30pm.
Social Studies
All Categories
Unassigned
Select Month
January
February
March
April
May
June
July
August
September
October
November
December
Select Year
2019
2020
2021
2022
Filter
Six Practical tips to ensure your child is prepared for digital learning:

Do a Double Check

Visit school and class portals for details and updates on assignments.
Ensure you have all required login and access codes.
Determine how to best communicate with teachers in case of questions (via text is preferred)

Develop a Daily Routine

Create a daily schedule in advance and write it out.
Require your child to follow the same daily routines as in school (i.e. shower, brush teeth, get dressed, comb hair, meke bed, etc.)
Consider using a timer or watch to track time spent on a specific subjects or assignments (PLEASE BE ADVISED STUDENTS SHOULD SPEND AT LEAST 55-60 MINS PER CORE CLASS PER DAY).
If parents are required to be at work or offsite while kids are home, require them to check in periodically throughout the day.
Allow designated breaks for strecthing, snacks, etc.

Designate a Space for Learning

Create a space for learning in a common area where you can provide monitoring or support as needed.
Remove distractions (i.e. cell phones, television or other things that will distract learning).
Ensure your child/children have everything that is needed to succedd (technology, paper, pens, books, glasses, etc.)

PLEASE BE ADVISED COMCAST IS OFFERING INTERNET IS AVAILABLE AT NO COST FOR THE NEXT TWO MONTHS.

Dedicate a Specific Time for Downtown

Schedule designated time for lunch and/or snack
If weather permits, schedule outdoor time for physical activity.
Allow speificied time for social media, gaming. Youtube or other digital fun.
Once, pre-determined learning time is done, allow kids to put to books and all learning materials away and relax.

Discuss Daily Progress & Accomplishments

Have daily discussion with your child/children to track their progress and to openly discuss their emotional feelings during this time.
Provide encouragement and words of support.
Be intentional about checking in with your child/children periodically throughout the day to provide support and guidance.
If your child/children has/have questions you can't answer, reach out to their teacher or check out online tools and resources.

Determine the Rewards for Success

Keep track of your child's/children weekly progress with a journal, chart or planner.
Consider scheduling school work and assignments during the first 4-days of the work week leaving Friday free for fun.
If possible, plan something fun (and free ) at the end of the week that is contingent upon your child/children completing all their work.