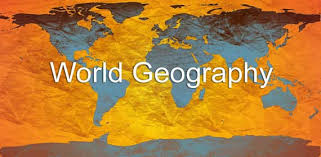 General Course Outline

First Nine Weeks

I. Five Themes of Geography

II. Tools of the Geographer

III. Interaction of Physical and Cultural Geography

IV. Canada and the United States

V. Latin America

Second Nine Weeks

I. Euro

II. Sub-Saharan Africa

III. East Asia and Central Asia

IV. Southeast Asia
World Geography is designed to be a one semester course. We will begin our study with background information covering the five general themes of geography, the tools of the modern geographer and then begin examining the different physical and cultural regions of the earth within the framework of five general themes. The following information should be helpful in giving you an idea about course expectations and student responsibilities:

Students must keep up with an orderly notebook. (three ring binder) Organize the

notes, study guides, maps and other classroom materials.

Read the assigned selections from the textbook. World Geography, MGraw Hill

There will be group work and independent work done outside of the classroom assigned during the semester.

The grading scheme for a nine week period will adhere to the following pattern:

a) Homework- Classwork notebook 30%

b) Formative Quiz average 40%

c) Summative Tests average 20%

d) Participation 10%

Make-up work and missed assignments are the responsibility of the student. Absences on test days must be accompanied by an excused note in order to be eligible for a make-up test at a later date.