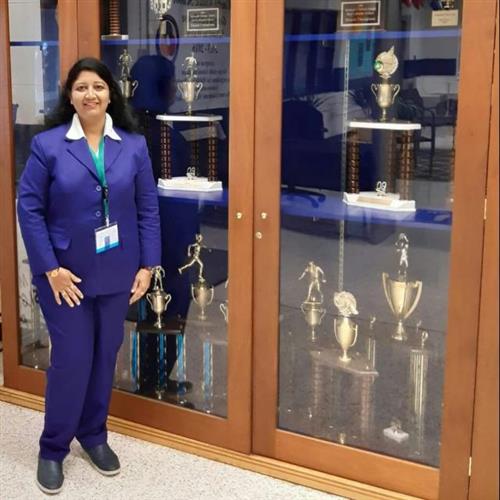 Phone:
Email:
Degrees and Certifications:
Mrs.

Sravanthi Dumpala

Glenn Hills High School

Dear Parents/ Guardians:

Welcome to the 2020-2021 school year at Glenn Hills High School!

My name is Sravanthi Dumpala, I will be the Inclusion Teacher for my students this year. As a case manager, I will provide support and assistance to your child so that he/she can have a positive and successful learning experience. Together, we can help my student succeed. We are encouraging students to use the planner/agenda book that was provided to them to record important information / communication.

I will be notifying you by letter and phone when your child IEP meeting is scheduled. Upon receiving the letter, please contact me to let me know if you will be able to attend the IEP meeting, if necessary, we can reschedule. Your input and attendance at IEP meetings are vital to your student's success. Please feel free to contact me at any time with comments or questions. I can be reached by e-mail DumpaSr@boe.richmond.k12.ga.us and by Phone #+14049360958

Sincerely,

SRAVANTHI DUMPALA

Special Education Teacher, Glenn Hills High School 2840 Glenn Hills Dr. Augusta, GA 30906

CANVAS ORIENTATION LINK IS rcboe.org/canvas.
The orientations will give students and parents a high-level introduction to the features Canvas offers.