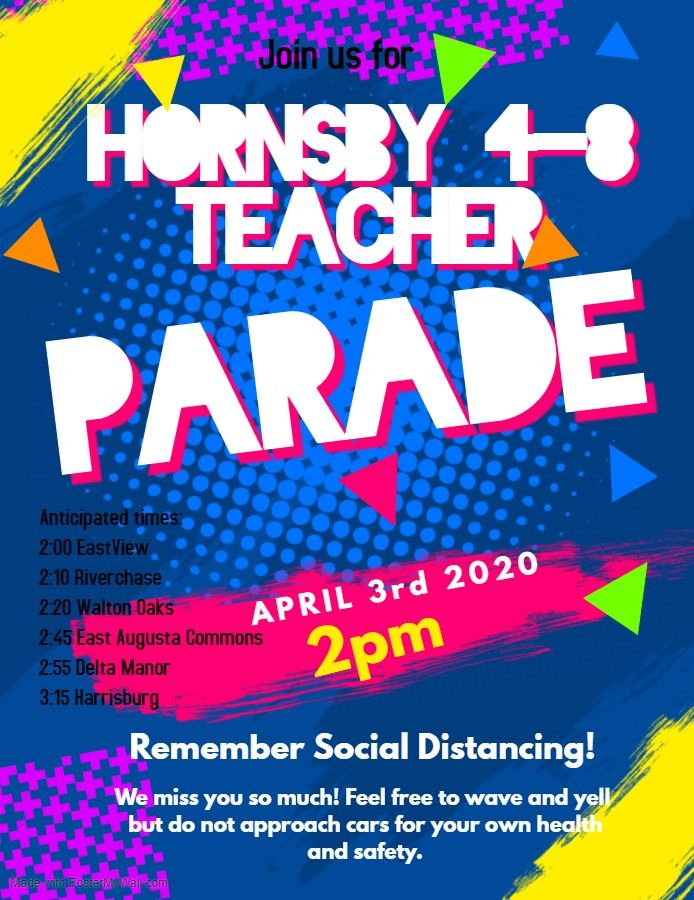 Distance Learning
.

NOTICE NOTICE NOTICE

In an effort to continue learning, Hornsby 4-8 will provide digital learning materials while schools are closed. This can be a scary time for us all. Please view the following video to help your child feel more at ease with the national pandemic known as the Coronavirus

PLEASE CHECK TEACHER PAGES DAILY FOR UPDATES AND CHANGES

ACADEMICS

Richmond County has purchased a new program to help increase student reading skills as well as interest. Reading Plus is designed to increase student interest and engagement in reading as well as increase reading skills and fluency. Students in the Richmond County School System are required to have 2 hours a week of Reading Plus activities. ** This sounds like a lot, however between activities at school and home, students are able to exceed the minimum requirement. Reading PLUS works on mobile devices, tablets, laptops and regular PC's. Please help us make each and every student succeed by allowing them time to work on this program at home. We MUST complete 6 ACTIVITIES PER WEEK.

VISIT "FLIPPED PAWS" on Youtube for additional lessons or videos used in class(es)+

GEORGIA STANDARDS OF EXCELLENCE:

GSE 6RI1: cite text evidence to support analysis of what the text says EXPLICITLY as well as inferences drawn by the text

GSE 6W1: write argumentative/persuasive texts to support claims

ASSIGNMENTS

YOU are a 6th grade.S.T.A.R.! Below you will find a list of assignments to complete during your absence from school. These activities are important, and MUST be completed in a timely manner. Each assignment must be completed within 48 hours (2 days) from the assignment date. After that date, it will be locked. All content will be turned in digitally unless arrangements have been made with you and your teacher.

Remember...2 hours of Reading Plus and 1 hour of IReady reading is still REQUIRED. Contact your teacher through email if you need help. thomala2@richmond.k12.ga.us or flippedpaws@gmail.com

*** Honors Class ( Maiva )- Begin reading DIARY OF ANNE FRANK and summarize each scene. The PDF version of the play can be found under the READINGS tab of my teacher page.

Week 1

| | | |
| --- | --- | --- |
| | | |
| Assignment Title & Resource | | |
| | | |
| Compare & Contrast (3 activities) | | |
| Compare and Contrast (4 activities) | | |

Week 2

| | | |
| --- | --- | --- |
| Assignment Title & Resource | | |
| | | |
| Text Evidence – HRW | | |
| Informational Writing – TEAMS (You will find instructions and a rubric under the assignment) | | |
| USA Test Prep – Text Evidence | | |

March 29- April 3, 2020

This week, we will study Anne Frank, a holocaust survivor during Hitler's reign.

This lesson will be completed through Brain Pop. The entire lesson can be accessed by clicking on the link or you can access each activity separately.

Materials: Paper

Pencil

Instructions: Move through the modules of Anne Frank, completing every activity. Activities that require you to write are fillable. You can download and save your answer or take a screenshot, then email them to me at thomala2@richmond.k12.ga.us . Game scores can also be sent for extra credit. Please do NOT skip the related reading.

Check off items as you complete them.

ELAGSE6L6

Acquire and accurately use grade-appropriate general academic and domain-specific words and phrases; gather vocabulary knowledge when considering a word or phrase important to comprehension or expression.

ELAGSE6RI2

Determine a central idea of a text and how it is conveyed through particular details; provide a summary of the text distinct from personal opinions or judgments.

ELAGSE6RI3

Analyze in detail how a key individual, event, or idea is introduced, illustrated, and elaborated in a text (e.g., through examples or anecdotes).

CHALLENGE https://www.brainpop.com/english/famousauthorsandbooks/annefrank/challenge/
Integrate information presented in different media or formats (e.g., visually, quantitatively) as well as in words to develop a coherent understanding of a topic or issue.

You may access more instructional resources below

BrainPOP and other educational sites are offering FREE access during this time. Do not hesitate to take advantage of the "freebies".

6th Grade You tube Channel: Flipped Paws https://www.youtube.com/channel/UCbJUzgsyKOe4Itu-cEIuvNw?view_as=subscriber

Flocabulary.com: Class Code 9V383N

Roomrecess.com
Khanacademy.com

abcya.com

Quill.org Class Code: state-fly

edulastic.com class code: P1YMS

https://www.ereadingworksheets.com

Students are still encouraged to complete Reading Plus activities away from school. There is a 2 hour a week requirement. Hornsby also has a goal of every student reading 100 lessons passed with 80 % or better....Let's put Hornsby on the map!!!
.