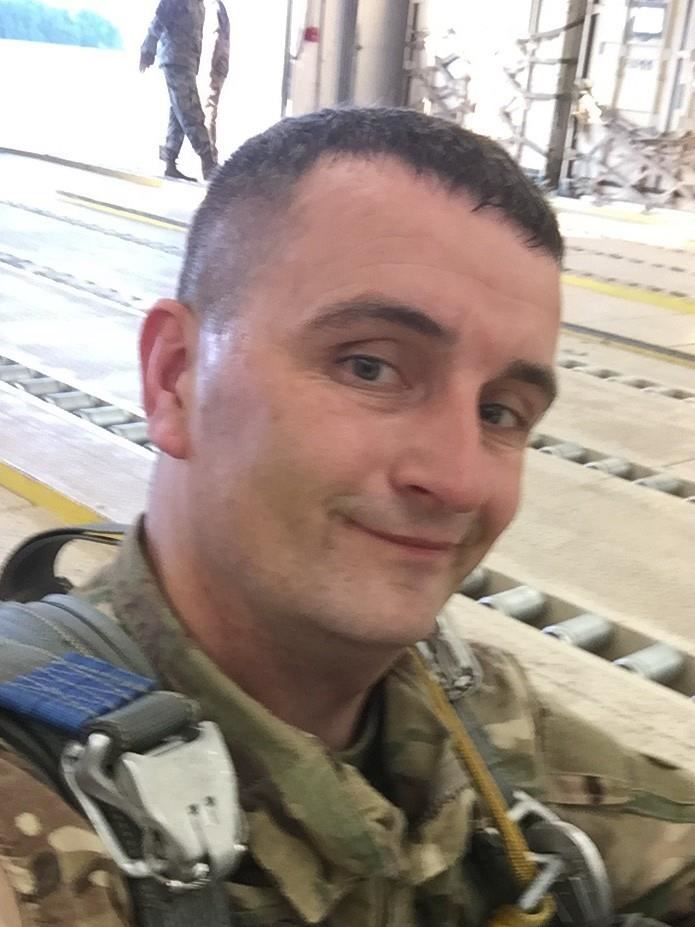 Phone: 706-796-4705
Email:
Degrees and Certifications:
B.S. Integrative Studies - History - Communications
Mr.

Richard Blankenship

Hello, I'm Mr. Blankenship, your teacher in Social Sciences.

I absolutely love to teach! This will be my first-year teaching at Glenn Hills Middle School. I was previously an educator with the armed forces and have since, transitioned towards educating the minds of our children so that they can be our future leaders of tomorrow. I am very excited to meet and work with all of you and your families this year. This year will be an amazing year, and I can't wait to meet you all and get started!

A little about myself, I am a husband to an amazing woman, and a father to 5 amazing children whose ages range from 7 to 23. I have recently retired from the United States Army and have made Georgia my home. I am a firm believer in being an Interdisciplinarian, meaning that I believe that there is more than one way to find answers or solutions towards academic questions. I am also a proud member of the National Honor Society- PHI THETA KAPPA.

I believe in maintaining a constructive, and positive work / classroom environment. I am a teacher who is known for having a no-nonsense type of humor and personality. I feel that all students have the drive to learn, and that my role as an educator is to find that drive and fuel it with knowledge. I look forward to working with each-and-every one of you and can't wait to get this school year started!

Welcome To Room 7 !!
8th Grade Social Science Course Syllabus

Glenn Hills Middle School

2020-2021

| | | | |
| --- | --- | --- | --- |
| Teacher | Richard Blankenship | E-mail | Blankri@boe.richmond.k12.ga.us |
| Phone | 706-796-4705 | Room | 7 |
| Planning Hours | 3:15 PM - 4:00 PM | | *Email is the preferred form of communication. * |

Class Description:

This Social Science / Social Studies class is designed to increase your knowledge and understanding on History, Georgia Geography, Government, and Economics. In addition, an introduction into Personal Finance. There will be times where these categories will appear to be interwoven (combined). I assure you that you will be given the opportunity and time to study the geography of Georgia as well, the government of Georgia. U.S. historical events are included, as appropriate, to ensure that the students understand Georgia's role in the history of the United States. Our primary focus in this class is to attain mastery knowledge in each category. Each student will be able to demonstrate their abilities and to express themselves both written and orally.

Course Outline:

Unit 1: Georgia Geography / Early People

Unit 2: Exploration / Colonization

Unit 3: American Revolution / Statehood / Westward Expansion

Unit 4: Civil War / Reconstruction / New South

Unit 5: The 20th Century and World Wars (WWI and WWII)

Unit 6: Civil Rights / Modern Georgia

Unit 7: Government / Personal Finance

Rules & Expectations:

Observe ALL rules in the Student Code of Conduct on Internet Safety & Digital Citizenship.
Follow directions the first time.
Be prepared for class on time. (Reviewed previous lesson, pencils sharpened, paper etc.).
Speak at appropriate times (Raise hand).
Respect your teachers and classmates.
Remain seated until your teacher has dismissed the class.
Dress in appropriate attire (If you have to ask if attire is appropriate, it probably is not).
NO CELL PHONE USE / NO OUTSIDE ELECTRONICS - during class sessions

Required Materials:

Reliable computer with internet access
Headset (earbuds)
Composition Book
Loose leaf notebook paper
Pencils (#2 Wood Pencils)
Highlighters
Color Pencils

Disciplinary Policy:

Verbal Warning and Redirection of Behavior
Verbal Warning and Call to Parent / Guardian – Annotation of contact added to contact log
Referral to Guidance
Parent Conference
Referral to Administration

Parental / Guardian Role:

Parents will have access to CANVAS just as the students. By logging into the CANVAS app/site with your child, you will have an accurate snapshot of your student's day. The page is designed to serve as your one-stop view of your child's school day and it is a great conversation tool to discuss successes and areas that may need attention. You can also message your student's teachers' and interact with class stories posted by the teacher.

While students should assume the major responsibility for completing homework assignments, parents are encouraged to take an act of interest in the student's homework by doing the following:

Provide a study space that is quiet, comfortable (not too comfortable), and free from any major disturbances.
Provide a definite time for study or other home activities.
Make available resource materials, such as reference materials (reference books, magazines, newspapers, dictionary, public library).
ENCOURAGE your child to complete homework on their own as much as possible and assist ONLY as needed.

Communication Information:

Please contact teacher via E-mail Blankri@boe.richmond.k12.ga.us or through the CANVAS communication link with any questions or concerns. You will receive a response within 24 hrs. If you do not hear back within 24 hours, please send me another e-mail.

Homework:

Homework is one of the many learning activities in which students engage. Homework will be assigned as a reinforcement to the lesson discussed in class. All assigned homework will be meaningful and will serve a purpose. Homework will be checked for effort and completion. Homework will not be assigned over holidays. No formal assignments will be due after a long break. (Thanksgiving, Christmas etc.) Problems or concerns regarding the amount of time spent on homework should be directly communicated with Mr. Blankenship. All homework should be on time. For any reason you are having trouble with the homework, please communicate with Mr. Blankenship.

Tutoring Times:

Additional tutoring and assistance can be held each Monday – Thursday from 08:00 am – 08:57 am. It is very important that you contact me if you are having any difficulties with technology or lessons. PLEASE do not sit and struggle alone – There is no shame in asking for help. You have a team of teachers that are available and eager to help you. I will also post available resources to help you. We will work it out together! Together everyone accomplishes more! We are a TEAM (You, Your Parents, and Me).

Grading Policy:

In our class, you will be graded informally and formally each day, using several different types of assessments. The purpose of grades is to assess the students' mastery of content, skills, and to assess learning. Grades will be based on academics ONLY. Grades will not be punitive in nature to address misbehavior. Graded assignments will be aligned with content standards specific to your child's grade level. At the discretion of the teacher, students may be provided with opportunities for reteaching or tutorials to demonstrate "mastery" on a failed formal assessment.

Late Assignment / Missing Work Policy:

Each-day an assignment is late; a 5-point deduction will be given to the overall assignment grade. For grade recovery, a conference will be required with the student and the parents to discuss the missing work and highest possible grades if it is submitted.

**Following additional practice, new opportunities may be provided, at the teacher's discretion, to measure student's mastery. A maximum score of 75% can be earned.

Grading Scale:

A: 100-90 B: 80-89 C: 75-79 D: 74-70 F: 69 and below (unsatisfactory; did not meet the expectation.