NOTE TO PARENTS - 12/12/19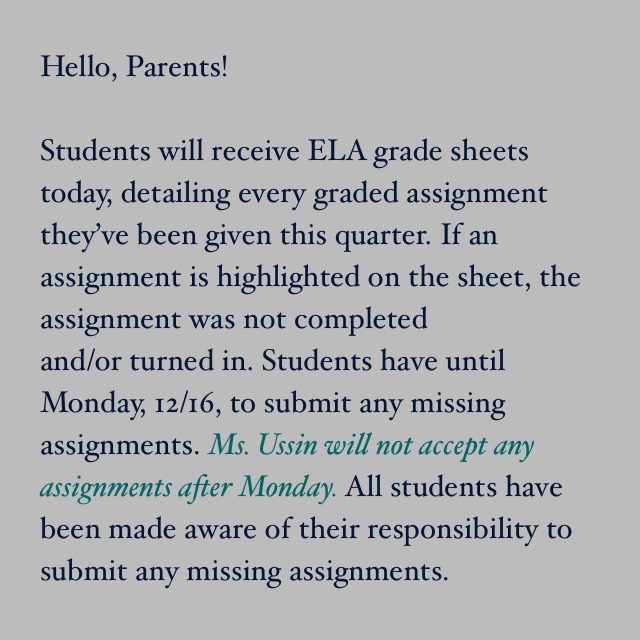 N O T E T O P A R E N T S - 10/01/19

Federal Impact Aid and Internet Access Availability Surveys (Federal Cards) are being sent home today. These surveys are very important, as they help with federal aid that serves as partial reimbursement to the Richmond County School System for local tax loss resulting from tax-free federal installations.

Please complete and sign the survey and return it to school with your child by tomorrow, October 2, 2019.

Thank you so much!
N O T E T O P A R E N T S - 08/27/19

From Friday afternoon (August 23) until Tuesday morning (August 27), I experienced a log-in freeze. All day Monday (August 26), Asst. Principal, Mr. Wiggins, and I worked as much as we could with the RCBOE IT Department to get the issue corrected between teaching my students and other school responsibilities. While my log-in capability was frozen, I did not have access to email, Infinite Campus, my webpage or any other school-related online sites/tools that require a log in.

Grades are being updated today and tomorrow, and I am responding to emails as quickly as possible.

Thank you for your patient understanding,

Ms. Ussin
Ms. I. Ussin, MAT

Room 513

6th Grade

- English/Language Arts (ELA)

Office Hours: Tue - Fri, 10:30 - 11:20

Tutoring: Wednesdays, 3:30 - 4:00

(with at least a 24-hour request)

---

What Can 6th Graders Expect in ELA This Year?

This course focuses on oral and written language, as well as media and technology for expressive, informational, argumentative, critical, and literary purposes. The course enables students to become skilled readers of more sophisticated literature by learning how to study and analyze literature through voice and style. The student will read a target number of books or word count equivalent from a variety of genres, subjects and disciplines. The student will compose writing in a variety of genres: narrative, expository, technical, response to literature, and argumentative. The student will analyze and edit his or her writing by focusing on conventions, voice, and style. There is an increase in writing, editing, and proofing. Mastering conventions is a major component of this course. Research becomes a critical component of this course. The student will also engage in viewing, listening, and speaking activities.

Mission: Building a world-class school system through education, collaboration, and innovation

Vision: The Richmond County School System will create a world-class, globally competetive school system where all students will graduate and are college/career ready.