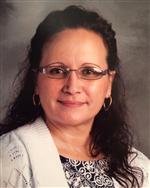 Phone: (706)755-1115
Email:
Degrees and Certifications:
Ms.

D. F. Gilliard

I was born and raised in Puerto Rico. Both of my parents are Puerto Rican. I am a US Navy Veteran. My husband died in 1993 while in active duty and we had two children. Our children are named April and Andre. They both have earned Bachelor's Degree.

I have earned a Master's of Education in Learning Disabilities and a Bachelor's of Arts in Spanish with a minor in Education. Both degrees were earned at Augusta State University.

I worked for four years in Special Education at Burke County Middle School and I worked for seven years in the Foreign Language Department at Cross Creek High School in which I taught Spanish Levels I-IV.

In my spare time I enjoy playing Pokémon-Go, walking, cooking, driving, traveling, and crocheting.
All Categories
Unassigned
Spanish 1A and 1B
Spanish I
Select Month
January
February
March
April
May
June
July
August
September
October
November
December
Select Year
2018
2019
2020
2021
Filter
Current Assignments
Date Due: 05/24/2019

Category: Spanish 1A and 1B
Past Due Assignments
Date Due: 09/20/2018

Category: Spanish 1A and 1B

Date Due: 10/16/2018

Category: Spanish 1A and 1B

Date Due: 10/19/2018

Category: Spanish 1A and 1B

Date Due: 10/26/2018

Category: Spanish 1A and 1B

Date Due: 05/15/2019

Category: Spanish 1A and 1B