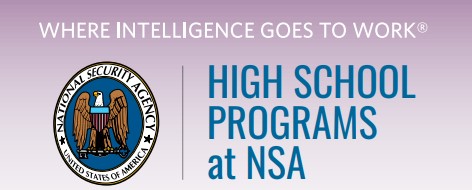 NSA Georgia High School Work Study (HSWS) Program
The NSA HSWS Program is a highly competitive program designed for high school juniors who want to participate in a paid part-time internship during their senior year. Students have the opportunity to gain work experience in business, computer, engineering, manufacturing, construction, graphic arts, Chinese language and Russian language. The program provides hands-on work experience from Sept. - August for 4 hours per day/20 hours per week Monday-Friday with a security clearance, part-time salary, paid leave, and the opportunity for permanent employment upon successful completion of the program. Click HERE to view the NSA HSWS Program brochure.
Interested

juniors

should click HERE to begin the application process. Online applications must be submitted by

30 November 2021

.
Visit intelligencecareers.gov/icstudents for more information on the HSWS program.