Parent School Climate Survey
Attention RCTCM Parents!
Please click the picture below to complete the Georgia Parents Survey. Your valued input will be submitted directly to the Georgia Department of Education. Be sure to select Richmond County and Richmond County Technical Career Magnet School from the drop-down menu.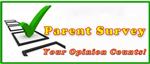 Thank you!