Cheer/Mascot Tryouts are set again!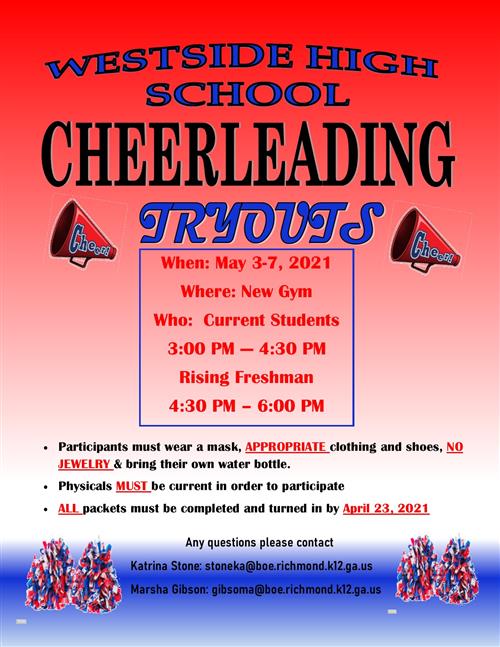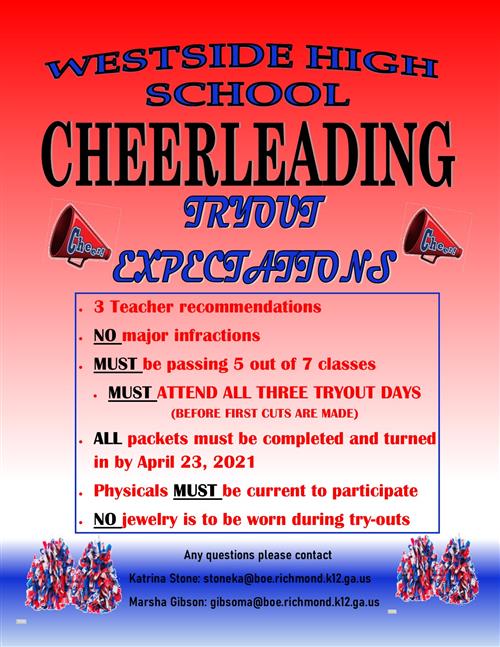 We will be on a very tight schedule for ordering needed items. A Mandatory Parent Meeting for 2021 -2022 Cheerleaders and their Parents will be scheduled once the team has been decided on.
For the upcoming tryout, make sure you have all needed forms (signed, initialed, dated, etc). All forms will need to be printed and sent in before tryouts. If you are having issues downloading or printing needed forms, please email the coaches listed below.
* Cheer Packet Includes:
CHEER PACKET CHECKLIST
Checklist (signed and dated)
Information Sheet (retained by you)
Student/ Parent Concussion Awareness Form (signed and dated)
Parent Permission Form (signed and dated)
Athlete Roster (completely filled out, signed and dated)
Copy of Insurance Card (included by you)
Westside High School Cheer Registration Form (completely filled out)
Copy of Current Physical (signed and dated)
Clearance Form (signed and dated)
Richmond County School System Interscholastic CONTRACT for Parents and Student-Athletes
Copy of most recent report card
Teacher Recommendations (3) (sealed in an envelope)

* *Failure to complete any one of the above items by April 23rd will result in the inability of the applicant to participate in clinics or tryouts. **
*Required Athletic Forms for you to read carefully
Admin Letter
Infectious Disease Plan for COVID-19
GHSA Guidance Form
** PREVIOUS CHEERLEADERS**
Any unreturned uniforms, should be brought to the school cleaned and in a

plastic bag

. Please write your name on the bag or on a sheet of paper; placed inside the bag.
Any questions and/or concerns, please contact
*Varsity Cheerleading: K. Stone (StoneKa@boe.richmond.k12.ga.us)
*Junior Varsity Cheerleading: M. Gibson (GibsoMa@boe.richmond.k12.ga.us)
Information is added or changed periodically, please check for updates regularly.