Check these out! Great to add to your activity Log!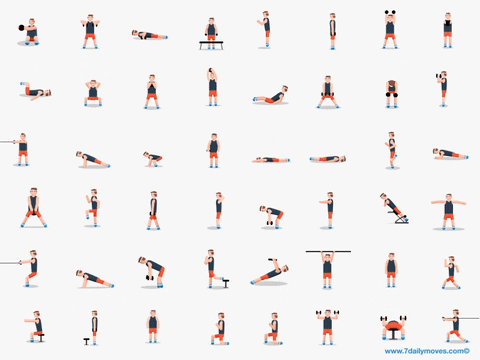 *Students create an online fitness tracker profile and log online at least 5 days of Exercise and Meal data.
Using the My Fitness Pal website to show how calories contribute to energy and weight gained and lost through metabolism.
We will check your results for a health grade once school resumes. If you do not have a way of getting online you can use a physical journal to log your daily diet and exercise.
Thanks so much stay safe during the break
Distance Learning BINGO board has been sent and posted by HR teachers. Please try to be active for at least 30 minutes every day!
Attention K-3 Parents!!
Do not be alarmed if you see a 1-4 on your childs PE grade. By the end of the year each child should be on level 4. We only assess 1 or 2 major categories per 9 weeks. Your child could have a 1, but are still achieving 100% in PE. The first 9 weeks we will assess Locomotor movements and spatial awareness. Please see the breakdown below-
!st 9 Weeks- Locomotor Skills/ Spatial Awareness 1
2nd 9 Weeks- PE/Game rules/Throwing and Catching 2
3rd 9 Weeks-Physical signs of exercise/general body parts 3
4th 9 Weeks- striking/kicking 4
Parents Please Click the PE Syllabus link and go over the document with your student!!!
2019/20 PE Schedule-
8:20-9:08 - 3rd
9:08-9:56 - 4th
9:56- 10:44 - 5th/6th
Plan
11:15- 12:00- 7th/8th
Lunch
12:51-1:39 - K
1:39-2:27- 1st
2:27-3:15- 2nd
FITNESSGRAM-
As a part of your child's PE program, all schools throughout the state will be participating in the FITNESSGRAM fitness assessment which measures health related fitness for youth. The FITNESSGRAM physical fitness assessment measures aerobic capacity, muscular strength and endurance, flexibility, and body composition. We ask that you encourage your children to participate with their best efforts and to the best of their abilities. Each student will be assessed using the following assessment components:
PACER or One-Mile Run
Push-Up
Height/Weight
Curl-Up
Back-Saver Sit and Reach
A confidential FITNESSGRAM report will be provided for each student to take home. This report will include your child's scores and information on the FITNESSGRAM Healthy Fitness Zones. The Healthy Fitness Zone represents the level of fitness needed for good health. The information on this private report will not be displayed or made public. For more information regarding the FITNESSGRAM assessment, please refer to www.FITNESSGRAM.net/faqparents. If you have any questions, please contact your School principal or physical education teacher.
ACTIVITIES WE COVER
.PE:
Fitness Testing
Golf Skills
Bowling
Throwing/Catching
Flag Football
Cooperative Games
Recreational Games
Fitness Games
Basketball Skills
Striking Skills
Volleyball Skills
Softball Skills
Track and Field Skills
Soccer Skills
Movement- Dodging/Avoiding
Endurance- 2 minute jog
Loco-motor movements
Special Events:
Boosterthon Fun Run
Cross Creek Track Meet
Field Day
Red Ribbon Sock Hop