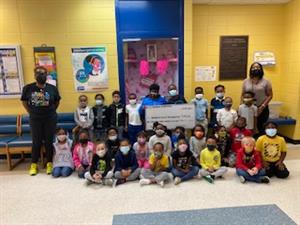 Willis Foreman's Sixth Annual Breast Cancer Fundraiser was a huge success thanks to our students, parents & staff.
This year, we had two classes that went above and beyond to help contribute to such a worthy cause. Ms. Grace's fifth grade class raised $330.38 and Mrs. Holbrook's kindergarten class raised $257.86.
Our grand total was $1,754.10 which was presented to the University Health Foundation for Breast Cancer.
A big WILDCAT THANK YOU goes out to all of our students, classes and staff who made this such a wonderful event.