MINDFRAME: Augusta University hosts first STEAM education competition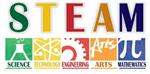 Mindframe:
Augusta University Hosts First STEAM Education Competition
And Spirit Creek Middle School's STEAM class was there! Rosina Allen, SCMS STEAM teacher, spoke to NewsChannel 6 about her students' participation at the event.
PLEASE CLICK HERE FOR NEWS COVERAGE OF THE EVENT.