Congratulations!
Spirit Creek Middle School took home several awards at the
22nd Annual Richmond County Middle and High School Math Competition.
Over 200 mathletes participated in this event. The competition goals are to stimulate enthusiasm and love for mathematics, develop mathematical flexibility and perseverance in solving problems, strengthen mathematical intuition, and foster mathematical creativity and ingenuity. Students participated in the following competition events: Individual Testing, Challenge 24 Event, and the Problem Solving Event.
Middle School Team Awards
Top 3 Problem Solving Team: SCMS - 2nd Place
Top 3 Overall Team Awards: SCMS - 3rd Place
Top 10 Challenge 24 Top Individual Scores: 5th Place - Congratulations, Thornton!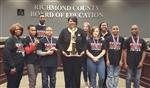 Pictured: Dr. K. Johnson, L. Johnson, & J. Jones with the SCMS Math Team
Go Dolphins!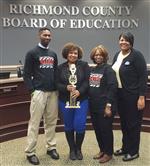 Pictured: J. Jones, B. Lowery, L. Johnson, & Dr. K. Johnson