Thank you to Jefferson Energy Cooperative!

Jefferson Energy Cooperative awarded Spirit Creek Middle School $9,705.53 in grant funds to purchase 12 laptops and a mobile cart.
Our vision for the success of SCMS does not stop here! We plan to present again this year and highlight on where we were, where we are, and we we are going!
Pictured below: in the center-left to right: Grant writer and presenter - Ms. Shirley Coleman (SCMS-CTAE Teacher), Mr. Irving (Representative for Jefferson Energy Cooperative) and Grant writer and presenter - Mrs. Rosina Allen (SCMS-Robotics/STEM Teacher).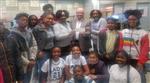 Pictured below: Grant writers and presenters Ms. Coleman and Mrs. Allen. Also, pictured 6th-grade students with a few of the laptops purchased with the Jefferson Energy grant.