Spirit Creek Middle School Lego Robotic Team
On December 16, 2017, the Lego Robotics team competed in a three category Robotic Event at Rockland Magnet School. They competed against 14 other teams. Spirit Creek Dolphins received a trophy for their excellent performance in the Robotic Core Values Category.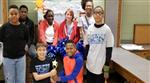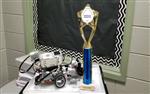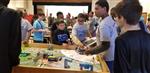 FIRST LEGO League trains kids to think like innovators. The Award encourages and assists teams to further develop solutions to real-world problems that demonstrate originality and have the potential to add significant value to the world. So much congratulations to the Spirit Creek Lego Robotic Team for a job well done!! Parents, Family and Friends there are more competitions to come.
Mrs. Rosina Allen, Robotics and Computer Programming