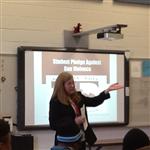 Principal's Message
On behalf of the faculty and staff, it is truly my pleasure to extend a heartfelt welcome to you as we commence the 2016-2017 school year. We believe that middle school students experience success at school when…
·student learning is the chief priority;
·students are provided with a variety of instructional approaches to support learning;
·students are offered opportunities to demonstrate an understanding of essential knowledge and skills, be actively engaged in problem solving, and produce quality work;
·positive relationships and mutual respect between students and adults are fostered;
·a safe and physically comfortable environment is provided;
·and a commitment to continued growth is established between the student, the school, the family and the community.
We hope that you will quickly feel at home and become active in the events of our school by joining the PTO, volunteering, and/or attending and supporting school events. Studies show that when schools and families work together, students make better grades, are happier at school, and have fewer discipline referrals.
Our focus, as we move forward this year, is to build upon and exceed our past years' accomplishments in all academic subjects and other facets of our school program. With your continued support of our students, our school, and our community, we feel confident this will be our best year yet.
Please feel free to call or come by if you have any questions about or suggestions for the school.
With Warm Regards,
Angela R. Sheahan, Ed.S.
Principal