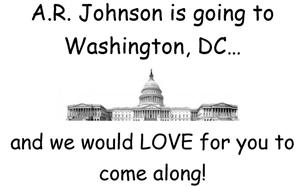 WHEN: Wednesday, Jan.18, 2017 thru Sunday, Jan.22, 2017
This trip will include attending the 2017 Presidential Inauguration where the 45th President of the United States will be sworn in. Our time in DC will also include stops at the Whitehouse, U.S. Capitol Building, Lincoln Memorial, Jefferson Memorial, Martin Luther King Jr. Memorial, World War II & Vietnam War Memorials, National Air and Space Museum, Natural History Museum, Arlington National Cemetery, and multiple Smithsonian Museums.
COST: $625
(This price includes 5 days/4-nights hotel stay for quad occupancy, ALL meals, motor coach service for the duration of the trip, and a special Inauguration treat bag.)
To guarantee your seat, a NON-REFUNDABLE deposit of $200.00 will be due immediately. Spots for this trip will be filled on a first-come, first-served basis. There will be 48 seats available for A.R. Johnson students ONLY.
The balance can be paid in installments, with $200 due by Dec. 6, 2016 and $225 due by January 6, 2017. Fundraising opportunities will be made available to help defray the cost of the trip if you are interested.
If you have any questions, please email Ms. Pullings at
pullidw@boe.richmond.k12.ga.us