Fathers, Father-Figures, Grandfathers, Step-Fathers, Big-Brothers, and Mentors, Guess What? You Matter Too!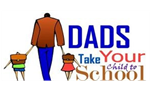 You are invited to bring your child to school, so please make plans for
When: October 13, 2016
Where: Pine Hill Middle School
Time: 8:30 A.M. - 10:30 A.M.
Please don't miss this opportunity with your child.
We want to see you at Pine Hill Middle School. You will make a difference in your child's education.
Click here to view flyer.