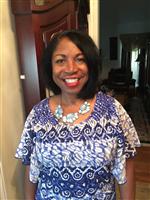 Phone:
Email:
Degrees and Certifications:
Mrs.

Annette Williams

Welcome to ESOL! Iam delighted to have your child in class this year. With your encouragement, your child will be a part of many exciting and rewarding experiences throughout the year. I am looking forward to working with you as a partner in educating your child. My goal is to facilitate learning in an exciting and fun way.This is my ninth year teaching ESOL. I have a BA degree in Sociology. A Master's degree in Early Childhood Education and an Education Specialist degree in Teaching. I also have an ESOL endorsement. Prior to moving back to Richmond County I taught third grade for DODDS (Department of Defense Dependents Schools) in Heidelberg Germany for three years. I taught Kindergarten in Shape Belgium for three years. I also taught a multi-age class in New Jersey for two years. I lived and worked in Europe and was blessed to visit many countries. I am married with two children. I am an avid reader and I look forward to another exciting year filled with many learning experiences for your child.

Please be aware of the policies and rules:

Attendance

Attendance is crucial to your child's success. Each child is expected to be present each day unless sick or other arrangements have been made. If your child is absent for any reason, please send a note upon their return stating the reason for their absence. If you know in advance your child will be out due to a family trip or medical appointment, please notify the teacher in writing.

Classroom Rules and Discipline

Students are expected to be responsible for the actions and conduct during the school day. To help develop self-discipline and to support a good learning enviroment the following behavior program will be used.

The behavior program uses the acronym 'SCORE'.

S= I will use self-control.

C= I will be courteous at all times.

O= I will conduct myself in an orderly manner.

R= I will respect other people and their property,

E= I will keep my enviroment clean.

Canvas

This year Richmond County will be utilizing the online learning platform called Canvas. Every student has access to this program through their Launchpad. Canvas will be where your students will access all of their assignments for online/at home learning. There are helpful links on understanding more about Canvas on the Diamond Lakes Webpage and the RCBOE webpage. I can also assist you in your efforts.

Let's work together to create a positive educational climate.