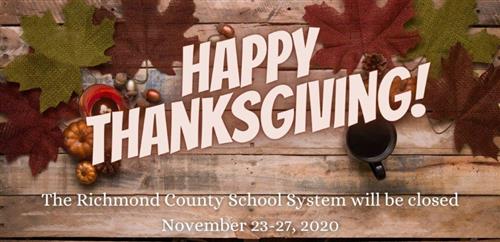 A message from Glenn Hills Elementary,
Happy Thanksgiving! After a successful week of Learn at Home, we have made it to our Thanksgiving Break. Our school is closed Monday, November 23 through Friday, November 27 and will reopen on Monday, November 30.
While this break may provide you a chance to relax and spend time with your family, please continue to take steps to prevent the spread of the coronavirus. At our school, we work together to follow CDC and Department of Public Health guidelines and keep each other safe each day. Please know that during the break, we are committed to do our part to enjoy the Thanksgiving break safely and return healthy on November 30!
We ask our GHE families to continue following CDC recommendations to prevent the spread of coronavirus. Wear your mask, wash your hands and watch your distance.
Our School office is closed this week. If your student, tests positive for coronavirus or is exposed, please let us know by calling the Georgia Department of Public Health, our partner in coronavirus response at 706-721-5800.
Remember, school reopens for face to face students and virtual learners resume online instruction on November 30 following our regular school schedule.
Until then, stay safe and as always thank you for supporting Glenn Hills Elementary.