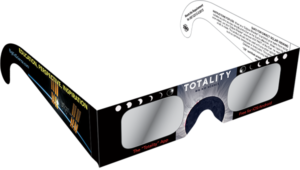 Solar Eclipse Safe Viewing for Students & Parents
Unless you are wearing special eclipse glasses, do not look directly at the Sun during the partial phases of the eclipse. It is still unsafe even when the Sun is more than 99% covered by the Moon. The only time it is safe to look toward the Sun without eclipse glasses is when it is covered completely during totality for those on the path of totality.
Basic Eclipse Observing
Young child warning: Young children ordinarily won't stare at the Sun because it hurts too much. However, as sunlight dims during a partial eclipse, it will not hurt as much as normal. As a result, you must closely monitor children to make sure they do not risk damaging their eyes by staring at the Sun during the partial phases of the eclipse.
You know it's not safe to look directly at the Sun on a normal day, and eclipse day is no different. This means you have two basic options for observing a solar eclipse:
**Use a projection technique, such as shining sunlight through pinholes in a sheet of paper onto the ground, so that you can watch the progress of the Sun without looking directly at the Sun.
**Use proper eye protection that is specially designed to allow you to look safely at the Sun. Do not use ordinary sunglasses or any other type of homemade filter! You will know your eye protection is safe if it is certified to meet the "ISO 12312-2 international standard" — but even then, it is safe only if it is undamaged and unscratched
Eclipse Observing with Binoculars, Telescope, or Camera
All the same safety warnings apply if you want to view the eclipse with binoculars, a telescope, or a camera, but in addition, you must protect the optics of your viewing instrument. This means you will need to purchase safe "solar filters" for your instrument. Once the filters are installed, you again have two basic options:
**Look through the instrument (binoculars, telescope, camera) toward the Sun. Again, be sure the solar filters are properly installed, and that your no other sunlight is coming through anywhere into your eyes.
Info provided by: www.bigkidscience.com