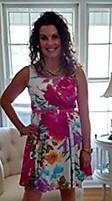 Phone:
Email:
Degrees and Certifications:
Gifted Endorsement Bachelor of Science in Early Childhood Masters Degree in Counselor Education Specialist Degree in Counselor Education Doctoral Degree in Instructional Leadership
Dr.

Elizabeth Hooker

Hello & Welcome!

This will be an exciting year and I am very much looking forward to working with you. Education and learning has forever been my passion. I am eager to share in this excitement with you. I received my bachelor of science in Early Childhood Education from Georgia College and State University. My Counselor Education masters and specialists degrees are from Georgia Southern University. I also have a Doctoral degree in Instructional Leadership, from Nova Southwestern University. My educational career includes being an educator and counselor. As a school, counselor my role is to support student academic performance by providing social/emotional, academic, and career related services to all. These services could include, but are not limited to brief individual counseling, peer mediation, small group counseling, class lessons/presentations, and other targeted interventions.

I love to travel! I've traveled to several states and a variety of countries outside the U.S.A. including London, France, Ukraine, Austria, and Mexico, to name a few. In my spare time, I volunteer to assist local animal rescue organizations and educate others regarding the importance of spaying and neutering all pets. #fixthemall At home I have three adopted rescue furbabies, Zaccheus, Jasper, and Cassell Rose. #adoptdontshop My family and I attend Warren Baptist Church in Augusta, GA.

Thank you, in advance for taking a proactive part in your child's life and education. Strong parental/guardian support and involvement leads to student success. Together, we will make a great team. This is sure to be an exciting year for students and staff! There is much learning to be had. This 180 day adventure will be one of the best yet!

Educationally yours,

Elizabeth Hooker, Ed.D.