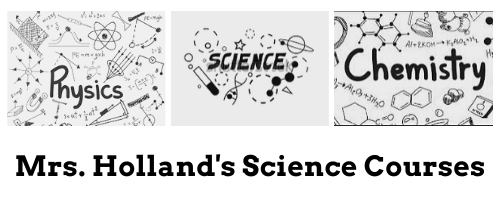 Contact me:

Email: hollakr@BOE.richmond.k12.ga.us

Remind:

Chemistry

Group Name: Chemistry-Holland 2020-2021

Group Code: @ 76h92gk

Physics

Group Name: Physics-Holland 2020-2021

Group Code: @ 9hd9c92
Welcome Back to the Second Semester of the 2020-2021 School Year!

As a reminder, students will find all assignments for all my courses on Canvas. Students should be logging in daily to complete assignments. To begin the semester, students will view the welcome module. In this module, students will find the class overview, methods to contact me, and examples of how to submit work. There will also be a page with navigation videos to help students move through Canvas successfully. Lastly, in that module, student will find a quiz. The quiz just asks if they have viewed all the pages in the orientation module. After that, the students are ready to begin content. Students should use the overview and to-do list at the beginning of each content module to stay on track with assignments. There will only be synchronous sessions based on the schedule provided by the school for virtual students. Students that were scheduled to be face-to-face will complete work asynchronously and are invite to attend tutoring sessions for extra help. I am looking forward to working with everyone. Stay Safe! See you soon!
Grade Repair Opportunities

Grade Repair is offered at the end of each unit. This grade repair can be found in Canvas in the module following the unit. Students must complete the grade repair correctly, before the due date, and submit via Canvas to receive the credit. Directions and Stipulations can be found on the grade repair assignments.