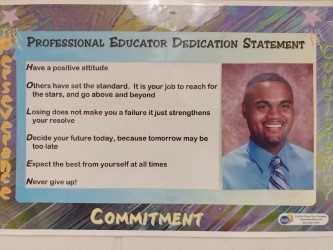 Phone: Detention on Wednesdays, 4:00-5:00 pm.
Email:
Degrees and Certifications:
Mr.

Holden

7th Grade Math

Mr. Anthony Holden/Course Syllabus 2018-2019

holdean@boe.richmond.k12.ga.us

Remind 101: @holdenma

Tutoring will be offered on Tuesdays and Thursdays from 4:15-5:00 pm.

Also on Monday, Tuesday, Wednesday, and Thursday mornings from 7:30-8:30 am.

Meet the Teacher

I would like to welcome you and your child to the Seventh Grade Math. My name is Mr. Anthony Holden, and this is my 14th year of teaching. I'm originally from Texas and spent 11 years in the U.S. Air Force. Georgia is the 5th state that I have had the pleasure of being an educator in! I am in my first year at Morgan Road Middle School, having taught 4th and 5th grades at Barton Chapel Elementary the past two years. I hold a Bachelor's Degree in Occupational Educational and a Master's Degree in Educational Leadership from Wayland Baptist University. I feel privileged to have the opportunity to work with your child this year and am excited for the upcoming school year.

Math 7

The math course focuses on (1) developing understanding of and applying proportional relationships; (2) developing understanding of operations with rational numbers and working with expressions and linear equations; (3) solving problems involving scale drawings and informal geometric constructions, and working with two and three-dimensional shapes to solve problems involving area, surface area, and volume, and (4) drawing inferences about populations based on samples.

Course Outline

Unit 1: Operations with Rational Numbers

Unit 2: Expressions and Equations

Unit 3: Ratios and Proportional Reasoning

May 13 – 24th: Test Weeks (Review, EOC, & Georgia Milestones)

http://www.gadoe.org/Curriculum-Instruction-and-Assessment/Assessment/Pages/EOG-Study-Resource-Guides.aspx.

Course Expectations

Students in my class are expected to develop independent critical thinking skills, writing skills, collaboration skills, and organizational skills that will be crucial in high school, college, and the outside world.

Students are expected to come to my class prepared and to complete assignments on time.

Missed work

It is the student's responsibility to obtain any missed assignments, notes or other pertinent information necessary due to an absence or tardy. Students must have a verifiable excuse to receive full credit for missed assignments due to an excused absence.

Class Procedures
Students must quietly enter classroom, sit in their assigned seating, unpack necessary materials and follow directives.
Complete any warm-up or posted activities.
Students are to raise their hands and wait for permission to provide comments, ask questions, sharpen pencils or move out of their seats.
Grading Plan
The DISTRICT GRADING PLAN is applied to points earned by the end of a grading period is as follows: A =100-90; B=89-80; C=79-75 D=74-70; F=69 and below.
Assignment grades are recorded on a point basis.
A grade may count more than once depending on the skill(s) assessed. Term grades are calculated as a percentage of the total points possible. Areas evaluated will be weighted as follows:
Summative (Test, Final Projects, etc…) 35%
Classwork (Group work, notebook check, writing, etc…) 25%
Formative (Quiz, Pop quiz, etc…) 30%
Homework (Textbook assignments, worksheets, etc…) 10%
Total 100%
*Parents may access student grades via the Infinite Campus Parent portal.
Expectations
Follow all school rules and policies
- Being Respectful
- Being Responsible
- Be a Leader
Classroom Procedures & Expectations
Be in your seat and ready to learn at the beginning of class.
Follow directions the first time they are given.
Respect others' right to learn.
Treat others the way you want to be treated, with RESPECT.
R espect the rights and property of others (keep hands, feet, and objects to yourself)
E ating/gum chewing and drinks are not allowed in class
S wift silence at the signal
P ut downs, swearing and rude gestures are prohibited
E arnest effort to listen ensures success
C ome on time with materials and homework everyday
T alk when called upon or when working in groups
Earned Consequences
RCSS Code of Conduct and Morgan Road Middle Student Handbook outlines the official progressive discipline policy which may be activated based on the student's behavior and the judgment of an administrator. Other actions may include but are not limited to:
 The teacher may: assign silent lunch, contact the parent, require detention before or after school, hold a team conference with the student, or hold a parent conference with the team of teachers.
Homework
Homework is usually assigned daily. Please check your student's agenda. Homework should be written by the student in the agenda as it is assigned.
Textbooks and Materials:
Each student will need a spiral notebook or composition notebook.
Looseleaf Paper and
Pencil