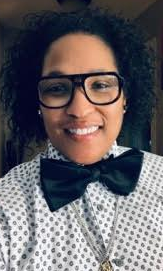 Phone: (706) 737-7360
Email:
Degrees and Certifications:
Bachelors of Science in Middle Grades Education Certified in 6-8 Social Studies Gifted Endorsed 6-12 English Certified Reading Intervention Specialist
Mrs.

Khadijah Huff

Welcome to my teacher webpage! My name is Mrs. Khadijah Huff, and I am thrilled to have you here. As an educator and alum of TW Josey High School, I believe in the transformative power of education and its ability to shape young minds, cultivate curiosity, and unlock the potential within each student.

Teaching has always been my passion, and I consider myself fortunate to embark on this incredible journey of guiding and inspiring young learners. With ten years of experience in the field of education, I have had the privilege of working with diverse groups of students, each presenting unique challenges and opportunities for growth.

My teaching philosophy is grounded in creating a nurturing and inclusive learning environment that fosters both academic excellence and character development. I firmly believe that every child possesses distinct talents and strengths, and my aim is to identify and nurture those qualities while addressing individual learning styles.

Throughout my career, I have continually sought innovative teaching methods and incorporated the latest educational technologies to create dynamic and engaging lessons. My classroom is a space where creativity flourishes, critical thinking is encouraged, and students are empowered to become active participants in their own education.

Education is a collaborative effort, and I highly value open communication and partnership with both students and their parents. I believe in building a strong rapport with my students and encouraging them to embrace challenges with a growth mindset. I am committed to providing a safe and supportive space where students feel comfortable expressing their ideas and exploring the world around them.

Apart from my commitment to teaching, I am an avid reader, and I love exploring new cultures through travel. I believe in lifelong learning and constantly seek ways to improve my own skills and knowledge to better serve my students.

Thank you for visiting my webpage and getting to know me better. I am excited about the educational journey ahead and look forward to making a positive impact on the lives of my students. If you have any questions or would like to know more about my teaching approach, please feel free to reach out. Together, let's embark on a transformative learning experience!