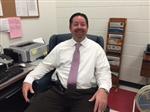 2016-17 Principal's Welcome
I am extremely excited about the 2016-17 school year. I look forward to a smooth transition from the leadership of Mrs. Collingsworth to myself. I am enthusiastic for the new students who will be attending Pine Hill Middle School for the first time as we begin this journey together. I look forward to working with all returning students as they continue their journey towards high school and beyond.
I have heard about all the great extracurricular activities that Pine Hill has to offer and about the educational experiences that students will receive. I look forward to continuing that work with an eye towards any areas that could be improved, in order to provide your child with a more rigorous academic environment. I pledge to continue to work hard to make our academic and extracurricular programs even stronger, ensuring that our students are prepared for the next stage of their life.
Parents are encouraged to continue monitoring the academic development of their children, through accessing Infinite Campus for grade status and keeping in contact with the instructors at Pine Hill Middle. It is a must at the middle school level for parents to keep a close relationship with the school and make your presence known at different school events.
Parents are also still encouraged to utilize both the Richmond County Board of Education and Pine Hill Middle School websites, using the following web addresses to keep up to date with events and activities at the school and in the community:
Richmond County School District: www.rcboe.org
Pine Hill Middle School: https://www.rcboe.org/pinehill
The Pine Hill Middle School teachers, staff, and administration are committed and excited to work with your children. We will work to make your years at Pine Hill successful, educationally challenging, and a time for social growth (building character). If you ever have any questions or concerns, the staff at Pine Hills Middle School is available to serve you.
Sincerely,
Brian Hadden, Principal