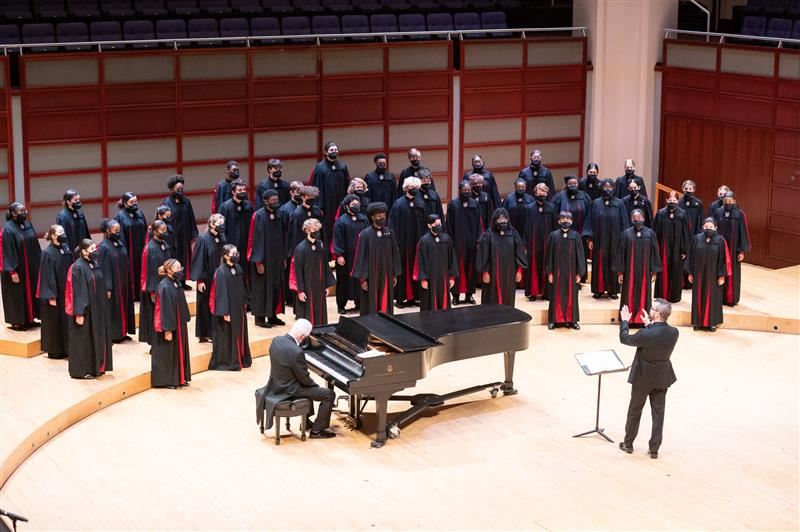 Phillip Streetman holds an undergraduate degree from Georgia Southwestern State University in Americus, GA and studied under Dr. Ned DeJournett, Dr. Deanna Weber and professional opera baritone Mr. Mark Walters. While matriculating, Mr. Streetman also served as the school's concert choir accompanist. After college, he was requested to be the Middle School Choral Clinician and High School Choral accompanist for the Mid-Summer music summer camp at Wesleyan College. Streetman earned his Master's Degree in Music Education from the University of Georgia in 2004 and his Education Specialist Degree from Augusta State University in 2009. Mr. Streetman is currently in his 25th year of teaching and 8th year of teaching at Davidson Fine Arts.

Mr. Streetman moved to Augusta in the summer of 2000 to begin teaching choral music at Columbia Middle School in Grovetown, GA. Under his teachings, the choirs at Columbia Middle School have consistently earned all Superior Ratings at Large Group Performance Evaluation. Streetman served as accompanist for the 10th District Honor Chorus program, Columbia County Honor Chorus program, DaCapo of the Augusta Children's Chorale, and the Richmond County Honors Chorus program. Mr. Streetman also served as the Middle School Choral clinician for the Richmond All County Chorus in 2014. Streetman currently serves as choir master for Woodlawn United Methodist Church has also taught at the Augusta University Music Conservatory camp for many years. He is currently the Resource and Repetoire Chair for Vocal Jazz with the American Choral Director's Association.

Streetman has performed as accompanist for the Augusta Players performance of My Fair Lady, Miss Saigon, The Wizard of Oz and The Addams Family. Streetman also was the pianist for Le Chat Noir performance of Trials and Tribulations of a Trailer Trash House Wife and Ruthless. Streetman had the privilege to be the accompanist for the Augusta Children's Chorale performance at Carnegie Hall in New York City in 2008 as well as accompanist for Dr. Henry Leck of the Indianapolis Children's Choir. He also accompanied The Augusta Men's Chorus under the direction of Joseph Jennings. Streetman served as accompanist for the 2011, 2012 and 2014 Georgia All-State choir in Savannah and Athens and as rehearsal accompanist for Dr. Timothy Powell at his world premiere of Incarnatio Mysterium at Avery Fisher Hall, Lincoln Center in New York City in June of 2011 as well as accompanist for the World Premiere of Saint George and the Dragon at Avery Fisher Hall, Lincoln Center. Mr. Streetman was assistant director to the premiere youth choir Decorus and constantly asked to serve as a clinician for choirs all over GA.

"I am very excited about this year at Davidson; my goal is to bring more artistry and variety to a world class program."
Spring Gala Concert Chorale and Harmonix

May 9, 2023 7pm

Beverly Barnhart Theatre, DFA

Welcome to the Davidson Fine Arts Choral Department. I am thrilled and excited to begin my 6th year at DFA. I look forward to a year of making music with you.

Please consider joining the Choral Booster Club. It is a wonderful way to be involved in your child's choral education. We have several chaperone opportunities throughout the year.

You are a part of a wonderful, world-class choral tradition at Davidson Fine Arts. It's the #1 Choral Program in the United States. Don't just take my word for it, though. The Davidson Chorale won the 2004 and 2005 Grammy Award for the top U.S. music program, forcing the Grammy Foundation to revamp their rules so Davidson couldn't win it every year. DFA Faculty members are committed to upholding that standard of excellence. The Davidson Treble Chorus is the first step in a 5 or 6 year journey through this amazing program! Members of the Choral Department have received substantial vocal and music scholarships in college, pursuing performance careers at the highest level! The musical foundation and instruction you will receive as a member of the choir will impact you for a lifetime.