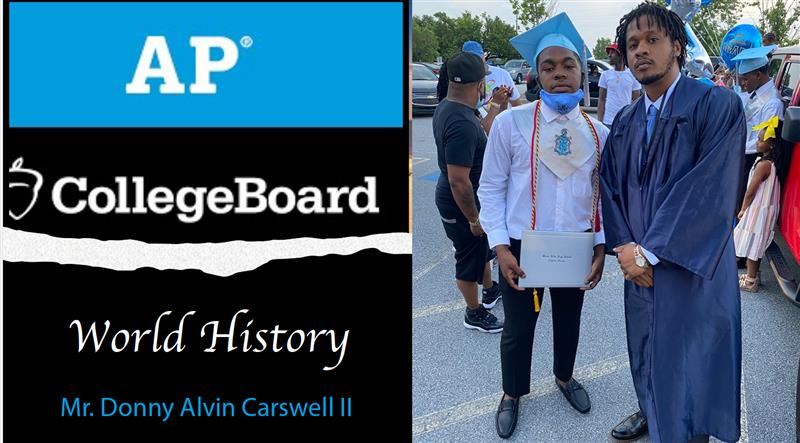 My Name is Donny Alvin Carswell II. Welcome to Glenn Hills High School. I am a graduate of the University of Maryland and the University of Phoenix. I have a Bachelor of Science in Criminal Justice/Psychology and a Master of Arts and Teaching. 2021-2022 will be my fifth year teaching Social Science.

I am looking forward to the upcoming school year, building upon the skills students mastered last year and helping students accomplish new challenges. This year, students will extend and apply many of the concepts they've learned in recent grades to discover new types of perspectives, unique and efficient ways to view the world, and new ways to analyze and look at historical events. A positive learning experience is built on a collaborative effort among parents, students, and teachers, and I welcome your question and concerns as the year progresses.

We have many expectations for our students at Glenn Hills High School. One of the biggest is being responsible for assignments and actions. Homework will be assigned three to four times per week in my class and current events and projects. Your student is responsible for completing and turning in each assignment. You must follow up at home with assignments, projects, homework, correspondence, and reinforcing positive behavior. My goal is for each of my students to experience success and foster a love of history. I am thrilled to work with you and your student over the school year.
Donny A. Carswell II

---

Email Address:

carswdo@boe.richmond.k12.ga.us

Phone Number:

(805) 312-3974 (text message; preferred method)

Please connect to Remind for updates for your student:
Video List

| | |
| --- | --- |
| | |

Video List

Please Watch for informataion about 2021-2022 School Year!

Author: Donny Alvin Carswell II    

Video List


We make History fun and pratical for all students to learn!!!!!!

Author: World History Mr.Carswell