JRs and SRs: Prom Tickets are on Sale Now!
NEW: Must get a pass from Ms. Askew in front office
to bring to media center to purchase your ticket.
Senior Price $25 (will not change)
Juniors and Guests
April $65
LAST DAY TO BUY TICKETS IS THE DAY BEFORE PROM -
TICKETS WILL NOT BE SOLD THE DAY OF PROM

If you are inviting a guest,
please visit the Jr Council page to print a copy of the appropriate guest form
(this form must be signed by the student's school).
ARC Prom Court Candidates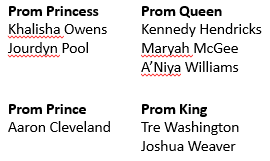 Voting will take place in homeroom Wednesday, April 25th.