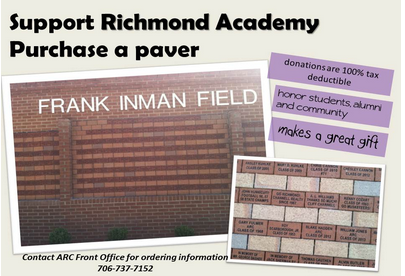 The Academy of Richmond County Alumni
Welcome!

If you would like to post information about upcoming ARC reunions, please send information to streeas@boe.richmond.k12.ga.us or call Ashley Dearing Streets, ARC Media Specialist in the Media Center at 706-737-7152 ext. 1567. We do not have information for class reunions that are not posted here.

- Visit Facebook and search for "FRIENDS OF ARC60'S" to reconnect with classmates and friends from the 1960s.

- In addition to this website, you may visit http://www.alumniclass.com/AcademyOfRichmondCounty to learn more information about reunions, former classmates, and the faculty.

- "Memories", the historical account of the Academy of Richmond County written by Alethia Edwards Bigbie, is for sale in the Media Center. The cost is $20.00. All proceeds from the book are donated to the ARC Library Media Center.

- ARC celebrated its 225th Anniversary, a historic milestone, on July 24, 2009 at the Julian Smith Casino. For over 200 years, the Academy has educated Augustans. It has prepared students for higher educational endeavors, effective careers, and leadership in our society.