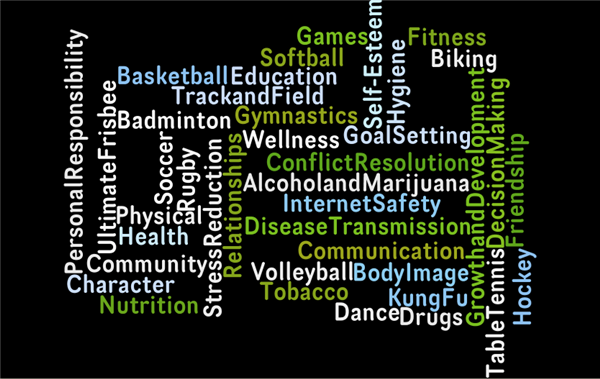 Health/PE Department
The main goals of the Health and Physical Education Department of Richmond County School System are to :

1. Educate the mind

2. Promote social, physical and mental wellness of the student

3. Encourage positive attitudes towards a lifetime of physical fitness and sport skills
Health/PE Announcements
The Fitness Gram Portal has not been updated. Check for more information in weekly newsletters.

Be sure to send parent letters home prior to the administration of the Fitnessgram

Student data needs to be uploaded to the Fitnessgram platform by December 14, 2018.
Family Dynamics
Curriculum for Sex Education and HIV/AIDS Awareness

State Board of Education Rule 160-4-2-.12 COMPREHENSIVE HEALTH AND PHYSICAL EDUCATION PROGRAM PLAN mandates that one component of the Health Education program is sex education and HIV/AIDS Awareness. To meet this requirement, the Richmond County School System currently uses the curriculum program "Choosing the Best." It is an abstinence-centered, sexual risk avoidance curriculum. The instruction begins in grade 6 and continues into high school. The curriculum is included as part of the Health Education curriculum. Parents have the right to have their child opt-out of the instruction by providing a written letter stating this preference and their understanding of their responsibility to teach the objectives at home.

To view the State Board of Education Rule: Rule 160-4-2-.12 COMPREHENSIVE HEALTH AND PHYSICAL EDUCATION PROGRAM PLAN

To view the Georgia Performance Standards for Health: Georgia Performance Standards - Health

Correlation of Choosing the Best Curriculum to Georgia Performance Standards: Choosing the Best and Georgia Standards

To access an overview of Choosing the Best Curriculum, click here: Choosing the Best Curriculum

Printed curriculum materials are avilable at middle and high schools.
CPR & AED Instruction - Grades 9 - 12
Health and P.E. Teachers play a vital role in ensuring that students learn the life-saving skills of hands-only CPR and use of an AED. GADOE state rule 160-4-2-.12 requires that high schools (grades 9-12) provide instruction in cardiopulmonary resuscitation and the use of an automated external defibrillator to its students as a requirement within one of the required health or physical education courses (Health (17.011), Health and Personal Fitness (36.051), or Advanced Personal Fitness (36.061)) to satisfy this requirement. Such instruction must incorporate the psychomotor skills necessary to perform cardiopulmonary resuscitation and to use an automated external defibrillator. In RCSS, all students should receive this instruction in their Health class.

To document instruction, please use the CPR & AED Participant Roster found here: CPR Roster
Health and PE Resources
This document, updated August 2018, provides the basic requirements of topics to be addressed in Health and Physical Education programs in the state of Georgia.

Form used to document instruction of CPR and AED skills. This form should be completed with each class when instruction is provided and submitted to the Department of Student Services.
Tracie Livingston

Program Administrator

Media Program

Physical Education

Phone: 706.826.1102

Email: livintr@boe.richmond.k12.ga.us

Aronica Gloster

Department of Student Services

Coordinator, Health Services

Health Education

Phone: 706.826.1129

Email:glostar@boe.richmond.k12.ga.us