Chief Financial Officer
The Chief Financial Officer's Office includes many vital departments, services, and programs for all schools, departments, and the community.

The Chief Financial Officer is responsible for the following departments:
Contacts
Chief Financial Officer

Executive Administrative Assistant

706.826.1114

Business Services Administrative Assistant (Bids)

Phone: 706.826.1298
Taxes
The millage rate for FY18 has been approved for 19.736, at the rollback rate. This rate is .018 mills less than the FY17 rate of 19.754. The rates for FY15 and FY16 rate were 19.972.

The tentative millage rate for FY19 was approved for 19.965 mills at a Called Board Meeting on July 26, 2018 with an increase of .292 mills over the rollback rate of 19.673 mills. Final approval of the tentative millage rate will occur on August 14, 2018, immediately following the 4pm Committee Meeting.
SPLOST
The citizens of Richmond County voted for a Special Local Option Sales Tax to support the school system in three major areas: textbooks, transportation, and technology. Phase 5 of the SPLOST was voted on and approved by the tax payers for the period of July 1, 2017 thru June 30, 2022. An oversight committee was formed to oversee the spending of these funds. See the

Citizen's Oversight Pay-As-You-Go Committee

for more information.
Current 2018 Tax Digest and 5 Year History of Levy (Posted 7.27.18)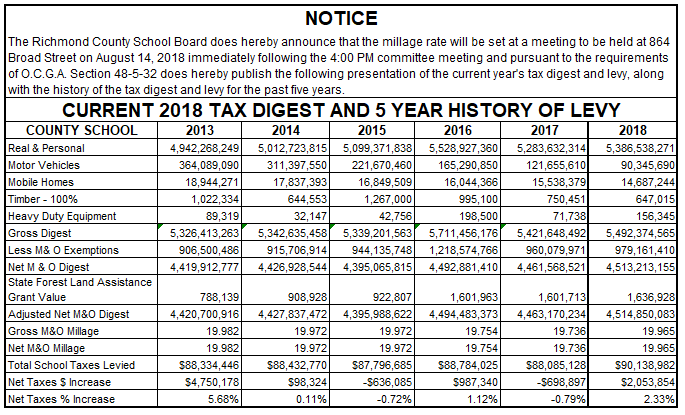 Notice of Property Tax Increase