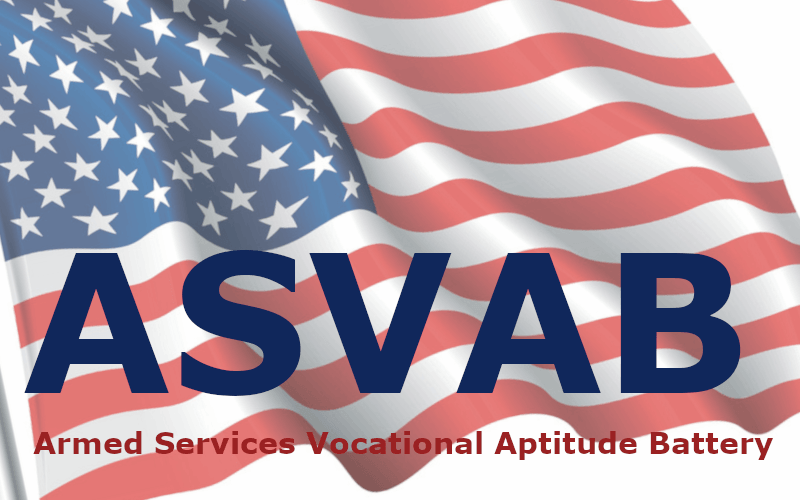 The Armed Services Vocational Aptitude Battery (ASVAB) is a heavily researched and well-respected aptitude test developed by the Department of Defense. It measures a young adult's strengths and potential for success in military training.

There are two versions of the test:

The enlistment version of the ASVAB is given at a Military Entrance Processing Station (MEPS) and is used for recruiting purposes only.
The student testing program, also known as the ASVAB Career Exploration Program (CEP), is used for career exploration and is given in high schools and community colleges, at job corps centers, and at correctional facilities.



Be prepared:

View some ASVAB sample questions and know what to expect on test day.



Enlistment ASVAB

In order to take the ASVAB at a MEPS for enlistment purposes, an individual will need to speak with a recruiter and schedule a time to take the test. ASVAB testing at a MEPS is self-paced and taken on a computer, and it may be retaken after a one-month waiting period. Those who do not live near a MEPS may take the test at a satellite location called a Military Entrance Test (MET) site.

The enlistment test sometimes referred to as iCAT, or CAT-ASVAB, is adaptive, meaning it adapts to your ability level.

In addition to the individual standard scores, recruits receive an Armed Forces Qualification Test (AFQT) score. AFQT scores are calculated from four ASVAB subtests: arithmetic reasoning, mathematics knowledge, paragraph comprehension, and word knowledge.

AFQT scores are used to determine enlistment eligibility. The Services use all parts of the ASVAB for classification into different jobs. Keep in mind that recruits may not always be assigned their first choice for a career — each Service branch places recruits based on a combination of need and the individual's knowledge and area of strength.



ASVAB CEP

The ASVAB CEP is a complete career planning program. Students are given the opportunity to take the ASVAB at no cost and no commitment to military service. The ASVAB CEP also provides an interest assessment and planning tools to help young adults explore career field entry requirements and various career paths, both military and civilian.

High school students in grades 10, 11, and 12 and those enrolled at post-secondary institutions can participate in the ASVAB CEP. Students in 11th grade and beyond receive valid scores for enlistment. The ASVAB may be given in paper and pencil or computer-adaptive forms. There are different strategies for taking the ASVAB, depending on which one your school offers.

ASVAB CEP test results are sent to schools so participants can explore career options with counselors. The scores report how the student performed on each subtest area, and how their scores compare with others who took the test. Participants receive three composite scores in verbal, math, and science/technical skills used for career exploration, and the AFQT score is also reported.

Good to Know: ASVAB CEP participants who want to enlist in the Military can access their AFQT at asvabprogram.com. They can also access their Service-specific line scores at careersinthemilitary.com.