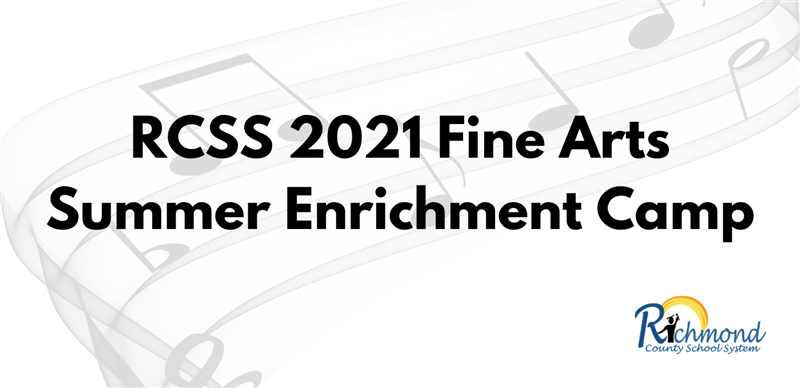 Art, Music, Dance and Band



Live In-Person Instruction

Grade Levels: 3rd - 8th

Dates: June 28 - July 16 (Camp holiday on July 2 and 5)

Times: 8:30 a.m. - 3:30 p.m.

Location: Richmond Hill K-8 School

Cost: $150 per student for 3-week camp (includes transportation, breakfast and lunch)



• Students in 3rd - 8th grades who are interested in Art, Music, Dance and Band and are currently enrolled in the Richmond County School System are encouraged to participate in our in-person camp.



• Band students in 5th - 8th grades will participate in a special camp designed to enhance the skills of beginning band students with sight reading, ensemble performance and marching band fundamentals for high school band.



• Students will participate in daily creative and confidence-building activities in music performance, explore various dance styles, and engage in a variety of art activities and projects to support Science, Technology, Engineering, Arts and Mathematics (STEAM).



If you have any additional questions, please call the Fine Arts and World Language Program at 706-826-1102.

Space is limited. The deadline to register is June 18, 2021. (Deadline has been extended.)
*Transportation may not be available for late registrants.

Payment Information

Go to Mypaymentsplus.com to register

Click register if you do not currently have an account through RCSS. If you already have an RCSS account, skip to step 5.

Select "Georgia (GA)" then "Richmond County Schools"

Fill out the information under "Create Account" and click "Register"

Towards the bottom center of the page, click + next to "Summer School and Programs" then "Summer Camps and Programs"

Check the box under PAY

Click "Continue Payment" at the bottom. This will take you to the registration form to complete.

Please complete all fields and click "Save and Continue". This will take you to the payment options page.

MyPaymentsPlus accepts Discover, MasterCard, JCB, Diners Club, VISA, and AMEX credit cards; or you may pay by electronic debit from your checking or savings account.